2-Axis DEFLECTION UNITS
XY deflection units for deflection and focusing of laser beams in two dimensions for a variety of applications that require small to medium sized fields and high processing speeds.
RAYLASE provides a selection of 2-axis deflection units suitable for various applications.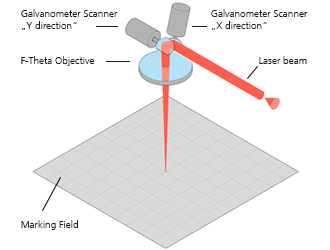 The RAYLASE 2-axis deflection units can be used to deflect a laser beam in X and Y directions. This produces a two-dimensional area allowing a laser to be directed at any position. This area is known as the "marking field" as shown in the diagram. Deflection is performed by two mirrors, each of which is moved by a galvanometer scanner. The deflection unit has a beam input, into which the laser beam is fed, and a beam output, through which a laser beam is emitted from the unit after deflection.