Machine vision control
INTELLIGENT IMAGE PROCESSING FOR THE AUTOMATION AND MONITORING OF LASER PROCESSES
Automatic localization of workpieces
Adaptation of the laser process to the part position and rotation
Immediate quality inspection during and after the process
RAYLASE Machine Vision Control (MVC) enhances laser processes by the valuable possibilities of modern Machine Vision Control. A well-adjusted system of industrial cameras, lenses, optical adapters, illuminations and intelligent image processing software simplify the development of industrial laser processes, reduces system costs and allow for the advanced control, monitoring and in-line quality inspection. The Machine Vision Control solution is capable to automatically recognize the position and rotation of a workpiece by recurring patterns or fiducials. In the design phase, these reference points can be taught to the system fast and intuitively. RAYLASE MVC adapts the parameters of the laser process to the actual workpiece position even when it is continuously advancing on a conveyor belt. Right after the process, the same system verifies the success of the laser process.
Marking and perforation of surfaces and packages, also in Marking-and-processing-On-The-Fly (MOTF) applications
Micro structuring and nano structuring
Surface treatment
Cutting, fine cutting, drilling and welding with laser beam power levels of up to 6 kW (On-Axis) or any power level (Off-Axis)
Additive manufacturing / 3D-printing
Processing of plastics, fabrics, glass, food products, carbon fiber composites, metals and diamonds
Process monitoring and optical quality inspection of workpieces

Application video click&teach

Automatic recognition of the position and rotation of fiducials or characteristic contours
Intuitive CLICK & TEACH technology based on the live camera image:



Teaching of relevant fiducials and characteristic contours
Definition of the process start point via cross hair
Creation and positioning of text for laser marking
Automated object generation for weldMARK ® 3 editor
Process simulation in the camera image and with pilot laser (if available)



Recognition of different part types by Optical Character Recognition (OCR), bar codes or Data Matrix codes (ECC 200) (further on request)
Automatic selection of the laser process and adjustment to the part type and position
Automatic process monitoring and quality assurance by comparing target vs. actual results
Support of laser beam power levels of up to 6 kW (On-Axis) or arbitrary power levels (Off-Axis)
Modular system setup offers solutions for high-performance as well as cost-sensitive applications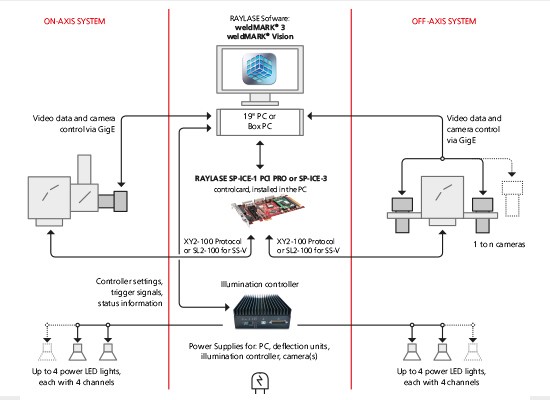 Components of our Machine Vision Control Solutions
RAYLASE MVC packages comprise the following:

Industrial CCD-cameras 0.5 to 5 MP resolution, GigE Vision compliant
Camera lenses optimized for 640 nm or 850 nm (1)
On-Axis camera adapter with dichroic element for 355 nm to 1,070 nm laser wavelength, beam power of up to 500 W or up to 6 KW with high-power adapter
F-theta lens, 100 mm to 500 mm eff. focal length
RAYLASE or third party laser beam deflection unit
Intuitive weldMARK® 3 control software for RAYLASE deflection units
LED-illumination with bar light, flat light or line light modules, 640 nm or 850 nm; several lights enable a homogeneous intensity
Illumination controller with 2 or 4 channels and manual or USB control interface
Industrial PC, compact (fan-less) or 19"-housing with TCP/IP interface to master PLC
Control card SP-ICE-1 PCIe PRO integrated in PC
weldMARK® Vision image processing software



Differentiation of workpieces by geometric measurement and text or code reading
Recognition of the workpiece position and its rotation
Adjustment of the laser process to the type, position and rotation of the workpiece
CLICK & TEACH functionality (1)
Quality inspection
(1) MVC on-axis setups only
CLICK&TEACH - LASER JOBS HAS NEVER BEEN CREATED FASTER

CLICK&TEACH offers additional workflow optimization. This new software from RAYLASE allows you to start the laser process sooner and to dispense with time-consuming, material-intensive "trial and error" iterations. In addition to being an ideal solution for accelerating the laser job setup process, the software can also be used to monitor and optimize this process. This makes it the ideal enhancement of RAYLASE's weldMARK® Vision machine vision software.

With CLICK&TEACH, the deflection unit maps the laser job On-Axis onto the workpiece that is to be processed. For this purpose, a camera scans a specific segment or the entire laser field and divides the generated image into individual sections known as tiles. The required laser process is projected onto the scanned image of the workpiece and can be adjusted and optimized as required. In addition, a previously saved laser job can easily be adjusted to the contours and position of the current workpiece. Live image mode allows the laser job to be simulated with moving crosshairs and a pilot laser.

Thanks to On-Axis monitoring, the CLICK&TEACH function can also be executed with very short focal lengths and working distances. The high-resolution CCD or CMOS camera provided guarantees the highest-quality images. The software uses the integrated camera driver or, alternatively, can access the camera via weldMARK® Vision. The integrated lighting surface controls up to 4 RAYLASE lighting units and ensures high-contrast workpiece images with homogeneous illumination.

This new, highly efficient Click&Teach software allows laser jobs to be quickly set up, easily optimized and perfectly positioned.